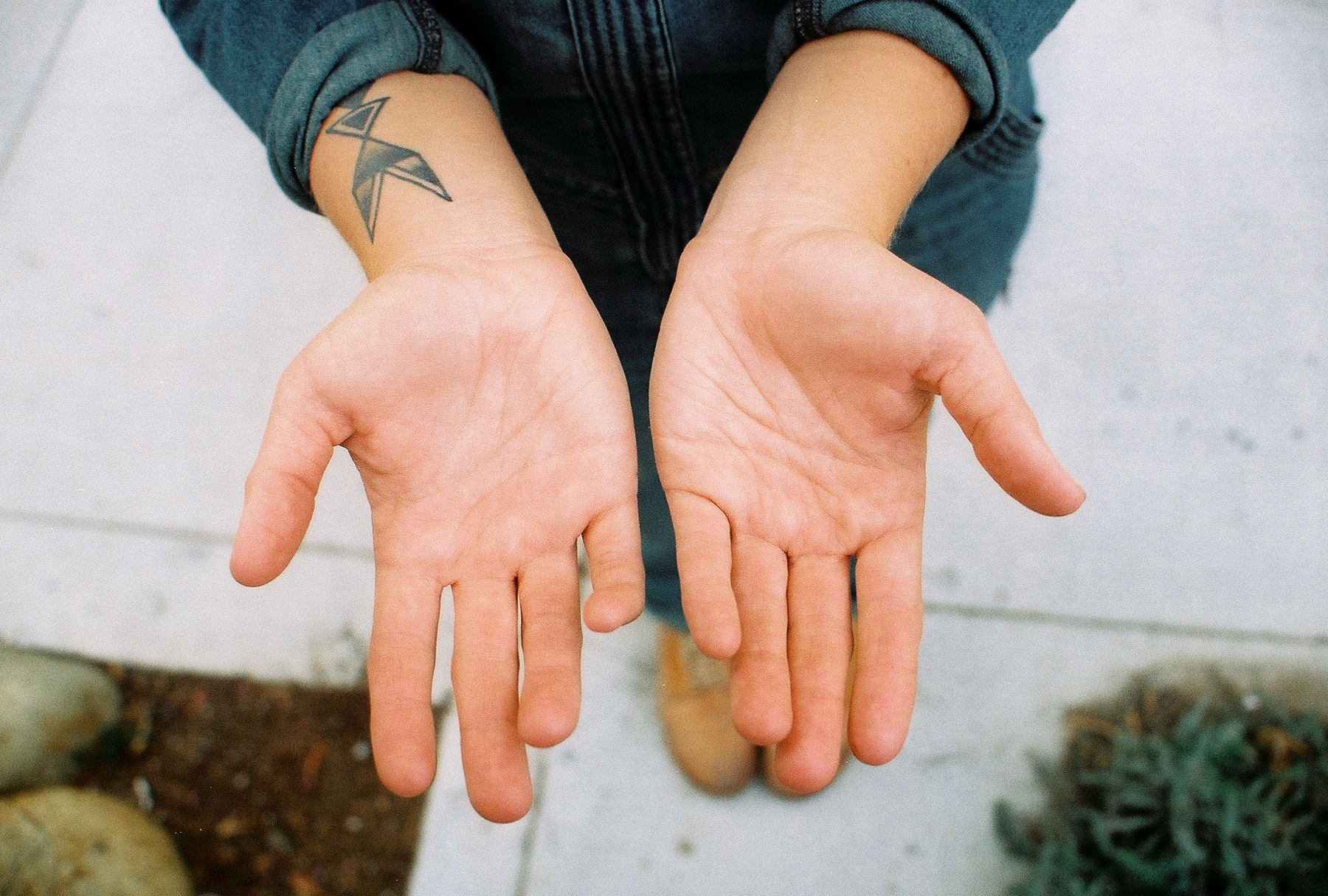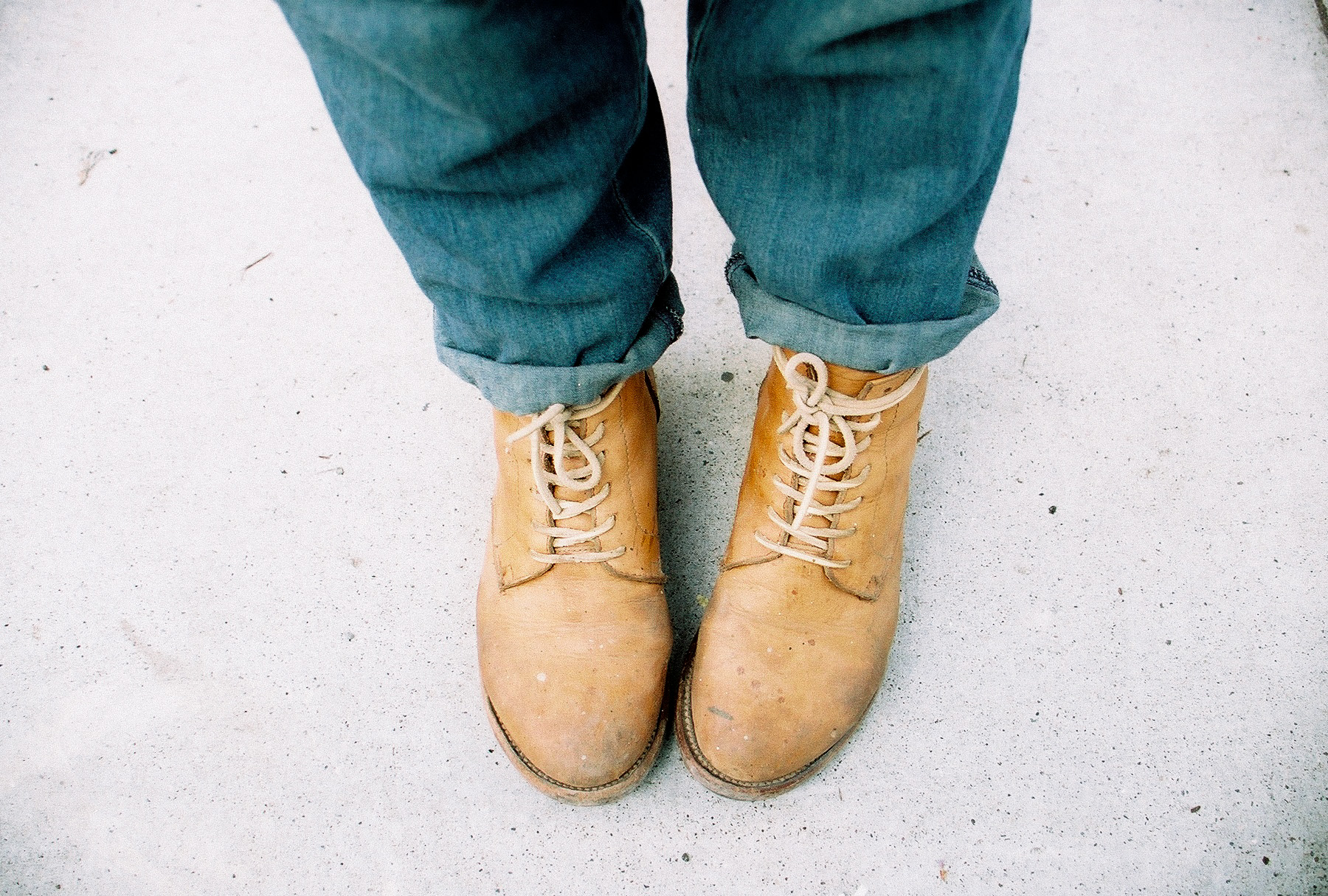 Woodworker & Installation Artist
Aleksandra Zee
Woodworking is a man's world. To point out the obvious, the craft involves heavy slabs of wood, nail guns, electric saws, and other very sharp tools.
Aleksandra Zee, woodworker and installation artist, isn't surprised by the assumption. Instead she points to an 8x8 ft installation made from thick slabs of old wooden doors that have been chopped up, reassembled, nailed together, and painted over. The imposing piece hangs on the back wall of her studio. In her other hand she wields an impressive 18-volt power drill. I look down at Jack, her tiny sawdust-covered rescue pup, who peers up at me from his new seat on my boots. Woodworking isn't exclusively a man's world anymore, we've decided.
Wearing fitted chambray coveralls, brown leather work boots, and a pair of horn-rimmed glasses perched on her nose, Aleksandra looks exquisitely feminine even in her modest work outfit. Her look is accentuated by a tumble of honey-colored curls free falling past her shoulders. "I want to be known for my artwork first and have people be surprised by [my appearance] after they look me up," she says. "I don't want to use my body or looks to sell what I'm doing." Aleksandra is referring to her Instagram account, which has 24,000 followers and through which she gets most of her commissions. "I get critiqued on what I'm wearing, how my hair is done, what I'm doing with my hands," she explains. "If there's a photo of me with my hair down while I'm working, I get comments from people criticizing and telling me I'm an amateur. It's silly because I'm safe and know tool safety, and if I'm gonna be leaning over a project with a drill, I'll tie it up. But for the most part I wear it down and I'm doing fine."
Garnering the respect of the woodworking community is an uphill battle and Aleksandra pays particular attention to how she is presented. This hyper self-awareness is also a part of her creative process. A self-proclaimed universal spiritualist who grew up in a strongly Christian household, Aleksandra uses meditation to achieve a feeling of presentness with her materials and her work. "Spirituality is at the forefront of my creative process," she says. "As long as I'm present with who I am and what I am, I create the artwork that I need to." Though she no longer identifies with organized theology, Aleksandra describes herself as a "vessel" for art; her gift is the ability to create. "As creators, we're called to be examples [for others] because our gift is out there for people to experience. Being an example of a good person and hopefully inspiring other people, that's my theology. That's more in line with how and why I create."
Aleksandra's other inspiration comes from her love of the desert. In line with her universal spiritualist beliefs, she likes to think that she is Native American somewhere in her spiritual being. "I feel a connection to that land, its spirituality, and the history of Native American culture," says the girl of Polish-Irish descent. Her art speaks to this in its color scheme and themes: mountains when they hit the dirt, and the oranges of a sunset. Aleksandra's patterns are similar to those found in Native American rugs and textiles, and in fact she often feels like she is recreating those designs with a new medium.
It is this uniqueness of her woodworking style that has attracted the attention of several publications and clients in recent months. She's been featured in 7x7 and the San Francisco Chronicle, and Aleksandra is currently prepping for a small art show in Japan next spring. Her appeal is first and foremost due to her work itself, but the interesting contradiction between her sawdust-and-nails profession and her fresh, feminine aesthetic doesn't hurt either.
The attention and commercial success is a big change for Aleksandra, who quit her full-time job as an installation artist for Anthropologie with only 1,000 dollars in her bank account to pursue her art. "I had the fire within me that I wanted to make it on my own," she says. "It's scary, [but] it's a crucial step for everyone who wants be a solo artist -- the jumping off point when you lose your security blanket. There are definitely times when I'm sweatin' it, but I just work harder and something always pulls through."
Despite her recent success, Aleksandra remains humble and hopeful for the future. She keeps her prices affordable and continues to share her artistic journey with her Instagram followers. A recent Instagram post captured a weekend foray into the desert. "Remembering to be calm and present," she captions. It's a sentiment that she's wise to savor. Her artist's trajectory has only just begun.

To explore more of Aleksandra's work, follow her Instagram handle (aleksandrazee) or visit her website, www.aleksandrazee.com. Prices for a piece range from $250 - $2000, or inquire for custom pieces.
Tell me about your job at Anthropologie
ALEKSANDRA: When I moved up to the bay it was terrifying. A lot of it was well over my head. With that job [at Anthropologie] you learn a million different art forms and you have to be a master. It was on the job training and it made me fall in love with wood. That job taught me all the basics of what I'm doing now, such as making a table or building a ladder to hang textiles Anthropologie was selling. It taught me a lot of discipline in the creative process and being diligent with your work, and knowing that you're not gonna finish something in a day. It was grueling and a lot of hard work, but I appreciate it. I worked under a lot of talented craftsmen and artists that I learned a lot from.
What satisfies you most as an artist?
ALEKSANDRA: Seeing a completed piece. I lose myself in the process. Once it's done I get to step back and look at what was flowing through my fingers. Putting the last nail in the frame and taking a step back and looking at it... it feels really good. I never thought I'd be building things out of wood or have my own woodshop.
How would you describe your style?
ALEKSANDRA: I'm menswear inspired. I like to be comfortable and stylish but minimalist. I like clean lines, not too much clutter, something I can get dirty and won't fall apart. I love wearing overalls, super practical. Most recently are these coveralls and work boots.
What are your goals?
ALEKSANDRA: Both my short term and long term goals are that I want to travel and get my name internationally exposed. I want to travel with my artwork and bring them to galleries. I want to do some type of residence or get commissioned to build something huge in another country. There's definitely a market for the work I do. I'm onto something that isn't being done right now, especially my indigo on wood panel work.
I'm working my butt off — I'm so excited about my art show in Japan. They want around 10 pieces. I'd like to come up with new patterns with my indigo staining. Play around a bit differently. It would be amazing to take off in Japan. The pieces are going to be smaller. People live in very small places in Japan so huge pieces are hard sell. It's going to be my first international show. I wasn't handed a bunch of money and I had to work my ass off for it. But it makes me that much more grateful.
Can you explain the process that goes into creating a new piece?
ALEKSANDRA: I gather materials at the supply shop and load it all into the basement. It takes a day to two to stain and prep the wood, and then a day to two days to build a piece. It takes around four days for for one to four pieces range from four feet to six or eight feet.