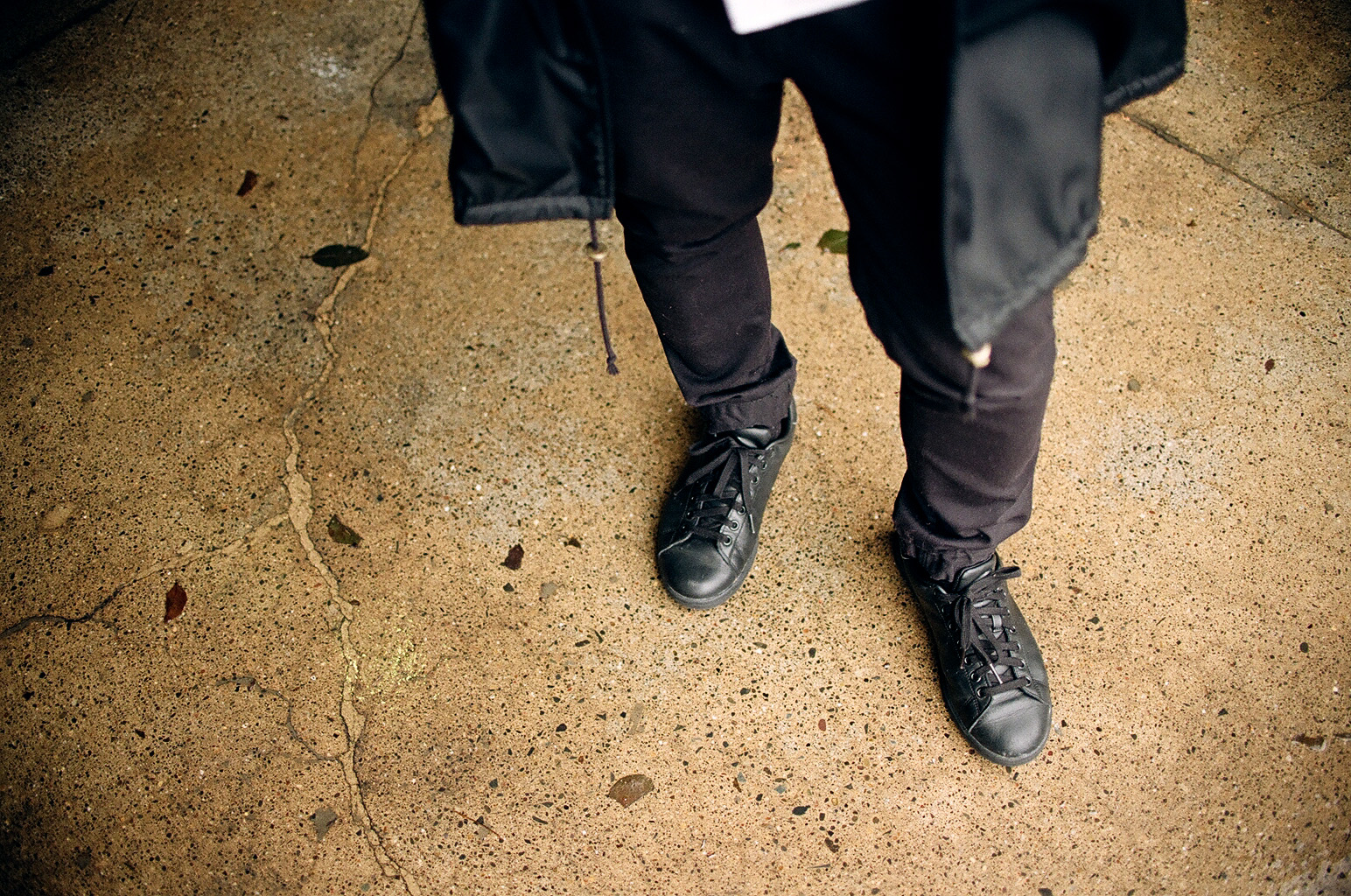 Dancer & choreographer
emerson aquino
Half the time they're not looking at you when they talk to you. It's like they can't. I say to them, "Look at the mirror and look at yourself. Tell your story."
**
When Emerson Aquino begins to choreograph, he stares intently into the mirror as the first beats of the song wash over him, shimmer down his body, and settle into the rubber soles of his trainers. He freestyles to the music, loosely rolling his hips, knees, and head. The flow shifts only when his shoulders and arms jerk to a change in the beat.
What comes out looking effortless is unsurprisingly a product of intense concentration and repetition, movement driven by the emotions created through music. "Dance is an emotional language," Emerson says. "I want to make sure I treat it that way. I try not to let doubt dictate my movement, and in that way I'm able to move freely and bring out the joy in my choreography."
Co-founder and Executive Artistic Director of the award-winning Bay Area dance company Funkanometry SF, Emerson has been dancing for 18 years and is well known in the hip-hop choreography scene. His reach extends into the professional LA music and dance industry with former students that have gone on to lead global workshops and performances. Notable protegés include dancers Shaun Evaristo, Kyle Hanagami, and Mariel Madrid. Evaristo went on to found the choreography management company Movement Lifestyle, and choreographs for artists like Se7en, Tae Yang, and Travis Garland, along with K-pop mega groups Big Bang and 2NE1. Hanagami and Madrid have both choreographed for popular television shows "The X Factor" and "So You Think You Can Dance," respectively. Hanagami has also toured with the likes of Justin Bieber and The Black Eyed Peas, while Madrid has performed on The Ellen Show. "These are dancers I used to train, so it's a very humbling experience," Emerson says. "But I'm so proud of them."
Emerson's first inspiration came from watching Janet Jackson's funky street-style choreography in her "Nasty" music video. He later trained formally in locking before moving on to incorporate other elements of dance into his choreography. His exact style is hard to categorize and is not confined within the boundaries of one dance genre. Students and dancers are attracted to Emerson's classes because of how he embodies the feeling of music and integrates dance into a larger story. What he passes on to his students is more than simply technical proficiency, it's emotional understanding.
It's easy to see how Emerson's energy translates onto the dance floor. His joy is a direct result of the catharsis of dance; when faced with conflict or negativity, he channels his feelings into choreography. "It's easy for a dancer to be vulnerable and strong at the same time because we go through these emotions in dance," he explains. "For example, being able to go through a breakup is easier [for me] because I'm able to choreograph a piece that's very meaningful. I'm able to put my heart and soul into it. It's no longer a dance, it's my story. That's a blessing."
Emerson admits he was shy growing up. He moved to San Diego from the Philippines when he was 15 years old and joined the dance group Culture Shock. Dance gave him the strength to persevere, and his community gave him a safe environment to express emotions that he had been evading. In college, Emerson was finally able to start talking about experiences that fueled the passion in his dance. He candidly recounts that he was molested as a youth and had once been afraid of speaking about his trauma. Now he uses his experience to encourage others to find strength and especially to advocate for how impactful dance can be as an avenue for healing.
"It was such a mental mindfuck, but dance was my safe haven," he says slowly, carefully. "I utilized my community because I trusted it, and I utilized dance to release that anger and sadness. I found my voice through dance and became a happier person. It's therapy to be able to release and just talk about things. You don't even have to vocalize it, you can do it through movement and that's amazing."
His dream is to create a sustainable dance center in San Francisco that focuses on after-school dance programs for local youth. "We want them to have a home where they can come in and feel comfortable, feel confident, and feel happy being part of a community," he says. "Because of that they can create and focus on their story. To me that's very powerful."
**
They always go on the floor. They start holding onto themselves. Some of them do a lot of crazy hair whips... I think that segways into anger. Sometimes they're just very slumpy, very bad posture. They always say, is this ok? I say, these are movements your emotions are telling you to do, so go for it.
Emerson asked his students to write down the emotions they were feeling that day. It was always a simple word: sad. "You work with these kids and they're only 12 to 15 years old and they've been through a lot," he says. "The things that they do when it comes to choreography, the kind of emotion they're putting out there — I wish they didn't have to go through that."
He explains how cookie cutter interpretations of "sad" inevitably led to deeper and more intimate expressions of the emotion once students broke through their insecurities. Sometimes the students would cry when sharing their stories. He recalls one student telling him: "I just saw my friend get shot two days ago." Emerson shakes his head. "It's hard. The only thing I knew was dance to make [them] feel better."
And dance meant something. Students that stuck with the program saw a huge improvement in their work ethic and grades and found pride being part of a group of kids who were comfortable with their bodies and themselves. Emerson was forced to shut down the class when he lost funding five years ago, but it's for these kids that he continues to works towards his dream of building a dance center.
**
"My goal is to talk about dance every day," Emerson says with a huge smile, his enthusiasm infectious. "Let's talk about its success stories and how we can get more people dancing. It feels right and it makes sense. I truly believe it will save lives."
How would you describe your dance style?
EMERSON: I'm very smooth and groovy. Definitely feel-good and dynamic. It's like going from being silky to jagged. It's a reflection of the music too. I like the feel-good nature of music and when the beat starts kicking in there's some sharpness I enjoy. I utilize that with my dancing. There's a heaviness to that too -- nitty gritty -- get into it. I love that.
What's your favorite genre of music?
EMERSON: I love RnB music, house music, and soul house music. When house gets a little transactional I start feeling robotic. But I like the idea of having a deep connection to the song. RnB and soul house music speak to me. Gangster rap music I don't really choreograph to, but I like listening to it! I can freestyle and emulate the character but it's definitely alien to me.
What's your personal style?
EMERSON: It's so hard because it's always transitional. If I'm going to a party I can dress up and put on a skinny tie and French cut suit. I would say I'm a little street with some dapperness. "Actively chic." I love activewear, but at the same time I'll put a nice A.P.C. wool double-breasted coat over it.
What did Funkanometry SF bring to the community?
It brought a home to our dancers and at the same time to the community. It's just given us lasting friendships. Around that time we were all so young and we all had a similar passion, and we put that on stage. It's a lot of work to be a dancer and most of the time when you're performing, the audience only sees what's onstage. They don't see the blood and sweat and tears that happen during rehearsals. But because of that we're able to have such an unbroken connection with each other. I have so many friends but even though I have a lot they're all so meaningful.
Tell me about your work as a stylist.
I'm a wardrobe stylist. I do a lot of test shoots for up-and-coming models that need to work on their books. I also do a lot of personal styling, like quick closet consultations, mostly for men. I find out what your style is and I elevate it. I also do freelance work for the GAP corporation, mostly at Banana Republic. I'm an assistant stylist over there. I'm also the 'cutie collector' for ManServants.com. I do scouting, train the models, and take care of their wardrobe.
See more of Emerson's styling work at emerson-aquino.com.