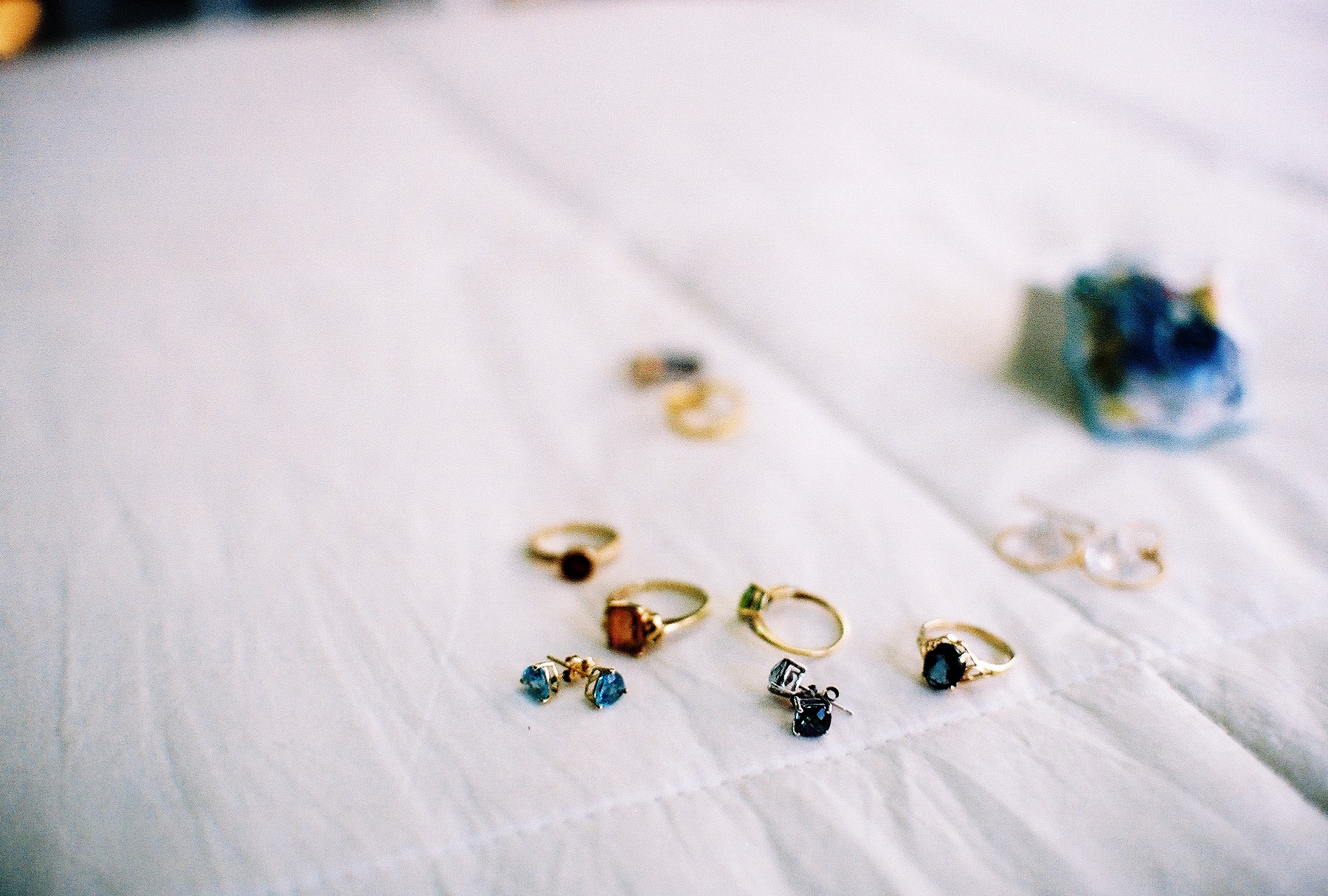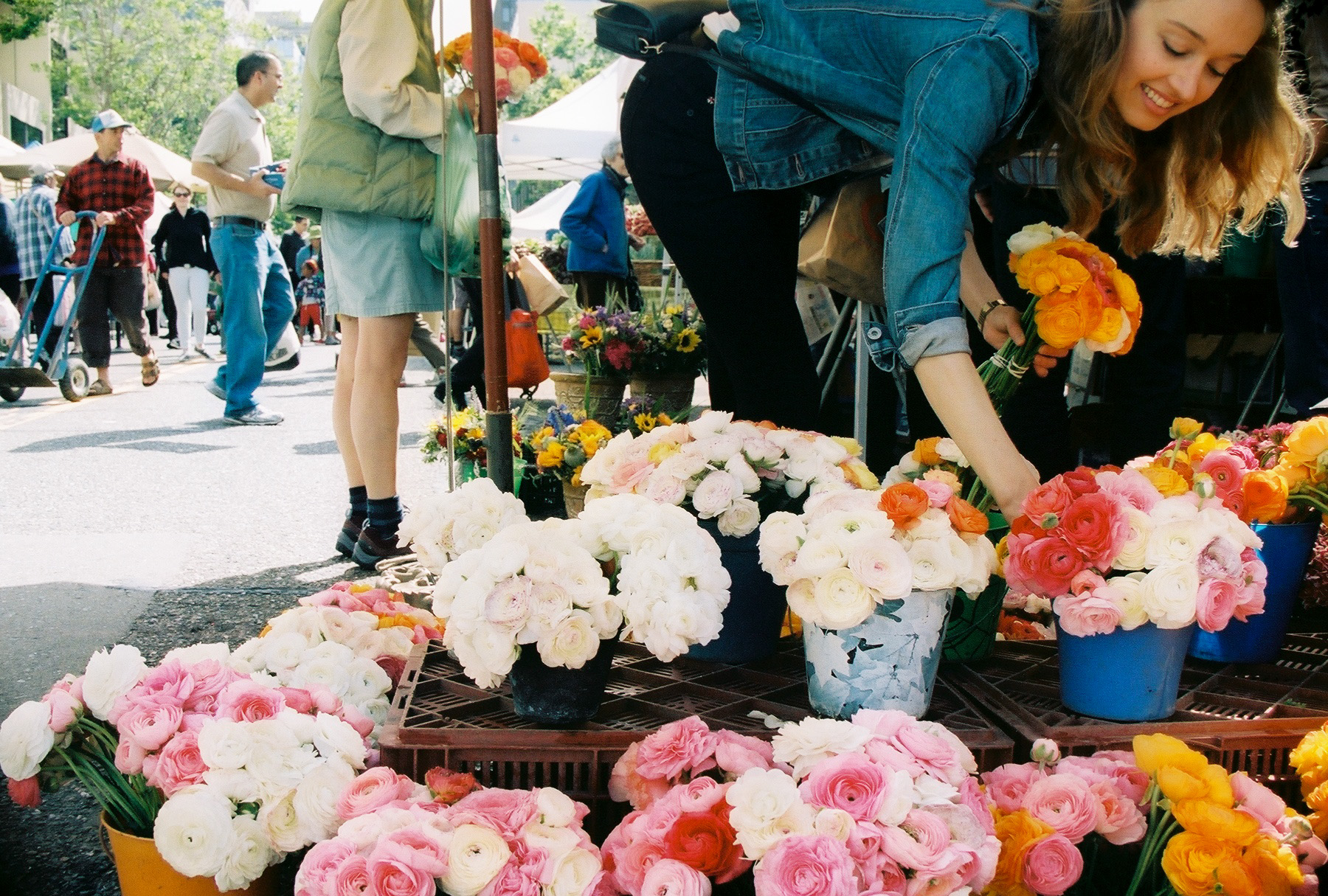 Model - Stars Model Management
Katrina Sperry
A gaggle of heads turn and watch as the camera comes out and she brings the bouquets of ranunculus up to her face. Whispy ringlets of gold hair fall and frame her face -- perfect for the shot -- and we hear voices hollering and whistling out of a passing car: "You're beautiful!" and "I want to take pictures with you!" float through the air behind it. Without missing a beat, Katrina looks straight into the camera and smiles sweetly as the shutter clicks. "It happens pretty often while modeling," she says afterwards, giggling and rolling her eyes. "Oh gosh."
Growing up in the countryside of Northern California, 5'10" model Katrina Sperry was gangly, skinny, and a bit self-conscious, more comfortable around the forest and its jack rabbits, deer, foxes, and bobcats, than the habitat of middle school where "fitting in" was as complicated for the 13-year-old as navigating through a thicket of brambles. "I was very self-conscious of my height and skinniness," she says, explaining her resistance to the idea of modeling while growing up. "It made me feel different than other girls my age and all I wanted was to fit in. I was always the tallest girl in the class. It really bothered me when people would tell me I should model, so instead of taking [those comments] as a compliment, I cringed."
Far from being a tomboy, Katrina danced ballet, loved clothes and Vogue, and dabbled in making jewelry and beauty products. She describes her upbringing as very disciplined, a trait that helped her graduate from the University of California, Berkeley, with a degree in Economics, as well as pursue a very divergent career in modeling. "People think that models aren't smart and don't eat, but it takes a lot of intelligence, common sense, and strategizing to sustain a career in modeling," she states matter-of-factly. "Yes, my degree in economics wasn't a prerequisite for modeling, but the way I learned to think in college definitely helps me in my career as a model."
Though she hadn't planned on taking a route much different from her fellow Econ classmates, Katrina couldn't fathom working a 9-5 job and jumped on an opportunity to escape a life of business suits on a rainy day just before her commencement ceremony: "I was walking to meet a teacher at Neiman Marcus. It had just stopped raining and I put my umbrella down as I turned the corner and walked right into two Ford agents on a coffee run. One of them literally chased me down and asked me if I was interested in modeling."
Now represented by Stars Model Management, Katrina remembers that experience as being a surreal moment. While she had modeled for the campus fashion club and participated in student photoshoots, she had never considered modeling as a career. But since her leap of faith, Katrina gained her bearings quickly, modeling for runway, e-commerce, informal, fit, editorial, and non-speaking acting roles. She sometimes works up to 14 days straight and stands for hours on end during fittings and shows.
Katrina's European features and sample-size build make her a popular model for clients, and her cheerful disposition tend to land her "smiley jobs" and photoshoots. But taking a more analytical approach to modeling, Katrina takes into account lighting and camera placement as she adjusts poses to highlight garment silhouettes, pockets, and small details. "Working with a new client always requires more mental work because you have to figure out what they want," she explains. "And sometimes they don't even know what they want until they see it. So I have a routine of poses that I modify to their clothes, and when they see something they like, we're golden."
Though the job can be glamorous, the emotional toll of modeling is real. Along with the support of her family, Katrina relies on her network of friends and colleagues to bolster her against the negativity that can pervade the modeling industry. "It's very important [to have a support network]," she affirms. "This industry can take a toll on self esteem. Luckily, most of the models I work with are extremely supportive. There's a great feeling of camaraderie, especially among the local models. When I work jobs with a group of models, we always talk, commiserate, and laugh about recent #modelproblems we've experienced."
While Katrina doesn't yet know what her path will be after modeling, a thought that's crossed her mind is going into business as an entrepreneur, whether it's for making jewelry and cosmetics, or something else. Her itch to be creative is persistent. In the meantime, she'll continue to grow her modeling network with colorful and fabulous clients and colleagues, cultivating both her personal growth and professional contacts in a fascinating industry. "I've always loved studying people, and the fashion world has some prime characters," she says. "In observing how they present themselves and interact with others, I learn so much about different ways of relating to the world."
How would you describe your style?
KATRINA: My taste has become much simpler since I started modeling. I think it's a reaction to being styled so much at shoots. I've also learned so much about fit and fabric. I like to shop very consciously, voting with my dollars. I don't want to buy cheap pieces that are manufactured in an unethical way and will fall apart after the second washing.
I avoid trends that aren't flattering, and look for a mix of classic and unique pieces that are well made and comfortable. I shop mostly at consignment and thrift stores, hunting for the higher end items. When I get tired of clothes, I just take them back to the consignment store! I almost had a self-sustaining wardrobe last year, shopping mostly at those stores.
What kinds of styles do you consider flattering for you, and what do you consider to be 'cheap'?
KATRINA: I now want to accentuate my height and slim build. I want to look like a model even when I'm off duty. Skinny jeans are a model's uniform, but when it's warm I love wearing mini or midi length skirts. Linen tee shirts are so much better than cotton, they drape beautifully. I also like long sleeve button downs, slightly oversized, with the sleeves rolled up. I try to only wear natural fibers: cotton, linen, and silk feel so much better than polyester and other synthetics.
Do you like wearing heels?
KATRINA: Nope. Sometimes they're worse than pointe shoes! But my feet have gotten toughened to endure them.
What are some examples of #modelproblems?
KATRINA: Frequent #modelproblems include: uncomfortable shoes that don't fit, standing for hours in fittings wearing said shoes, being poked with pins at fittings (I've even been cut with scissors!), being burned by hair stylists, makeup artists who don't clean their brushes and products, not being asked of we're comfortable wearing revealing garments. We often don't feel we can speak up or say no at a job, because there's always another girl who can replace us.
This is one reason I like the SF market: it's small enough that you get to know the clients, hair stylists, makeup artists, and designers. I can build credibility and rapport with them so that I can speak up without feeling my position will be threatened. I actually feel they respect me more when I speak up. Having a good agent is so important. I rarely encounter bad working conditions, but when I do I can report them to my agent.
What's the most challenging part about being a model?
KATRINA: Being at the bottom of the totem pole. We're the canvas of the designer, photographer, art director, stylist, show director. Sometimes from our perspective and past experiences it's easy to see how something could be done differently or improved, but it's not usually our position to be making suggestions. Although lately I have gotten up the nerve to make gentle suggestions when I feel it's appropriate and will really benefit the outcome of the job, and they've been well-received! I always thought handling rejection would be my biggest challenge, but it's actually very understandable to me when I don't book a job because I have no idea what the client is looking for. Maybe they wanted a brown-eyed model, a shorter model, a model with bangs.
To check out Katrina's work, visit her portfolio here.
More examples of video:
More examples of commercial modeling: