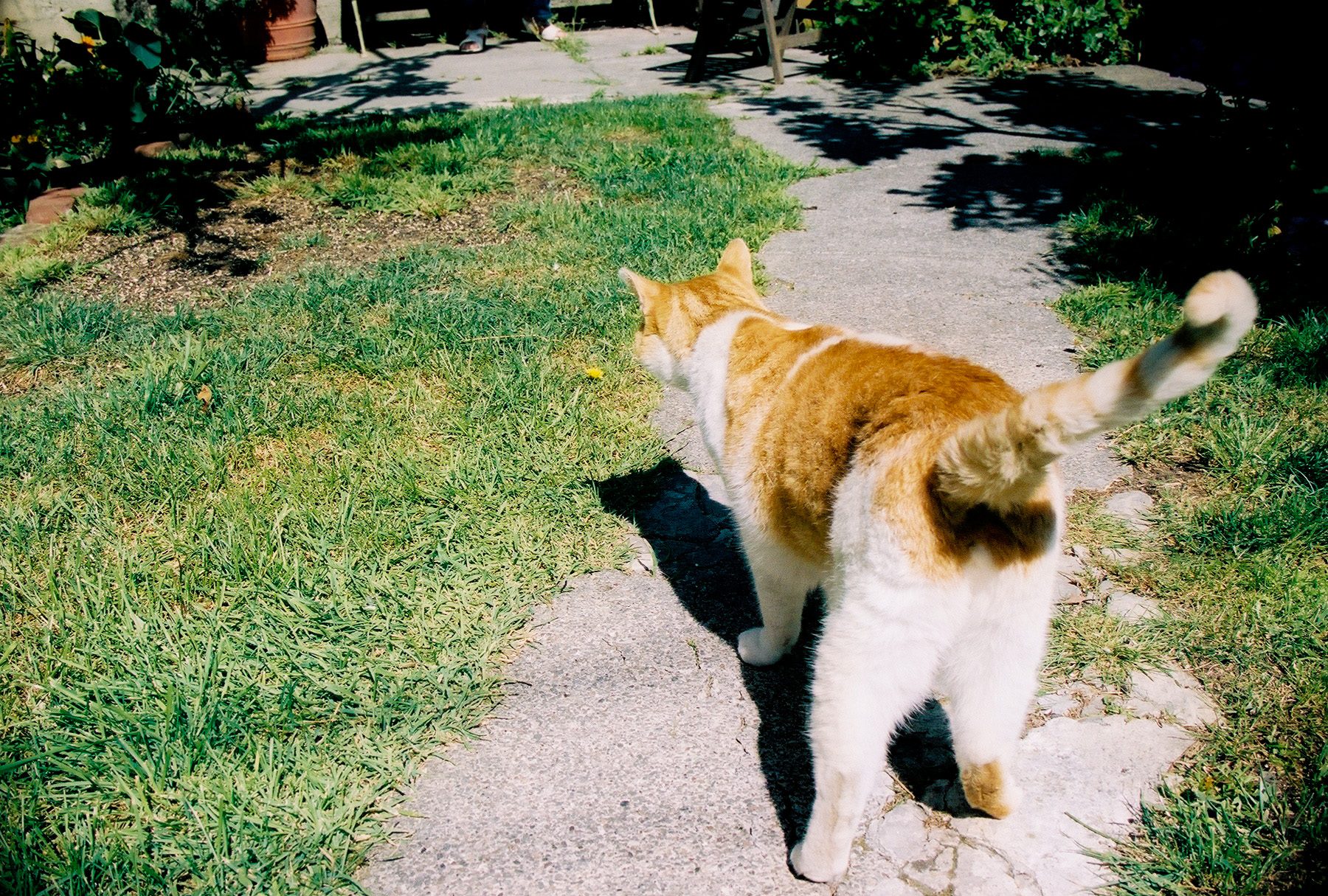 Graphic Designer
Kseniya Makarova
Bright gold shimmers into fluorescent green, as the colors weave and meld into one another across the surface of a sea-tossed stone. Imitating the natural colors you find on mossy rocks and in tide pools, this tapestry of gold and green is created by colored threads intricately wound through and around tiny thirled stones that designer Kseniya Makarova finds during her walks along various Pacific Coast beaches. Other stones are wrapped in bright pinks and orange, or a pale lavender; one is even decorated with multicolored sparkles. Kseniya attaches necklaces to some stones while others are used to hold small plants or paper weights. By bringing a human touch to the natural form, Kseniya leaves her mark on these stones -- little symbols of her love and her inspiration, the Bay.
Though she was born and raised in the Soviet Union until the age of six, Kseniya developed deep roots in the San Francisco Bay Area after she and her family fled to the United States as political refugees. "There was a lot of antisemitism in the Soviet Union then," she explains. "My dad has a Jewish last name and in the Soviet Union our passports would say our nationality, either Russian or Jew. [The prejudice] wasn't overt, but my dad couldn't go to the university he wanted to go to, he couldn't get the job he wanted. Because of that my last name isn't my dad's last name, it's actually my mom's last name."
Kseniya knew no English when she moved to California, but she threw herself into creative outlets. Her parents supported her creativity and signed her up for classes, ensuring she always had the supplies she needed for whatever project she had her eye on. Art was her outlet growing up, and once she began attending the California College of the Arts, her talent began to flourish and she discovered her love of graphic design. "I spent my first year experimenting with painting and printmaking, but I've always felt like I didn't have a 'message' like all the great artists do," she said. "I needed more of a starting point than the open field of fine art provided. I'd always been good at math so graphic design fit, it's like putting math and creativity together."
Her instincts paid off and Kseniya scored internships with the CCA's in-house studio and a boutique design firm called Ingalls Design, where she still works today. At night she teaches Communication Design at the CCA extension program and continues to grow the creative community that she has built in the Bay Area. On top of everything else, Kseniya also pursues diverse projects such as screen printing, illustration, and photography.
"I'm an artist and a maker," Kseniya says, after pondering a bit over how to describe her diverse array of interests. "I'm always struggling to define what that is: I draw, paint, design -- I put strings on rocks." Brimming with enthusiasm, Kseniya gets to the core of what really drives her: connectivity. "I'm looking for connectivity and community," she says. "Making things is a part of that." While most artists find a sense of fulfilment in simply creating what they love, it is undeniable that having an audience to experience one's work and interact with brings a deeper kind of joy. "I had a teacher once who said, 'It doesn't matter what you make in your closet if no one ever sees it.' If I just sat here and never shared my work with anyone it would feel pointless to me. I want my work to touch someone or something, and make someone happy."
How do you pronounce your name?
KSENIYA: KSEH - NEE - YAH
Where do you find inspiration?
KSENIYA: Definitely place. I'm really, really attached to California, specifically the Bay Area. I love just wandering around [San Francisco] and looking at light and color, anything like that. Since I was a kid, my parents were taking me to museums and exposing me to as much art as I could be. I also like old things. I love repurposing things or rediscovering something and bringing it back to life. I love flea markets and vintage shops, particularly 30s-50s era in terms of graphic design.
I also get a lot of inspiration from other creative people, like on tumblr. But I try not to get lost in looking. I think there gets to be a point where you're just looking at all this cool stuff but you're not getting anything beyond that. It's not sticking. What is it about [what I'm seeing] that I'm attracted to or find interesting? Then, how is it done, how is that working? Aside from just seeing what I like, I'm actually learning something.
In terms of inspiration, I can open Facebook and see so many things my peers are doing, and it's so amazing. Whenever I see something that blows my mind it makes want to go make more things. It's good to have people look at your work and suggest ideas and give you feedback.
Is it hard to find work as a designer?
KSENIYA: Yes and no, I think there's something out there for everyone, but certain fields are quite difficult to get into. It's hard for me to judge because I'm so entrenched in this field and this community of designers who have jobs. I got super lucky but I work hard. I had ties to the area and was already plugged into the network. If you come in from the outside or don't have the four-year design education (and network that comes with it) it would be much more difficult. I don't think I'm ever gonna get rich doing this, but I love what I do. I could be making more money than I am, but I'm very happy where I am now, I really care about the work.
Describe your personal artwork.
KSENIYA: For the most part my personal work starts with either an existing object or a process I'm interested in. It's really process or object based. It's this push and pull -- through working with it I then discover what it is that I want to do. With the stones, I found myself collecting a lot of stones, but I wanted a purpose, not just a pile of rocks in my house. How do I highlight the stones and shine my light on it? Randomly, I found all these colored threads at a yard sale, they happened to sit next [to the stones] and boom it came to me. It's nice to be able to work in these two completely different fields that are kind of complementary.