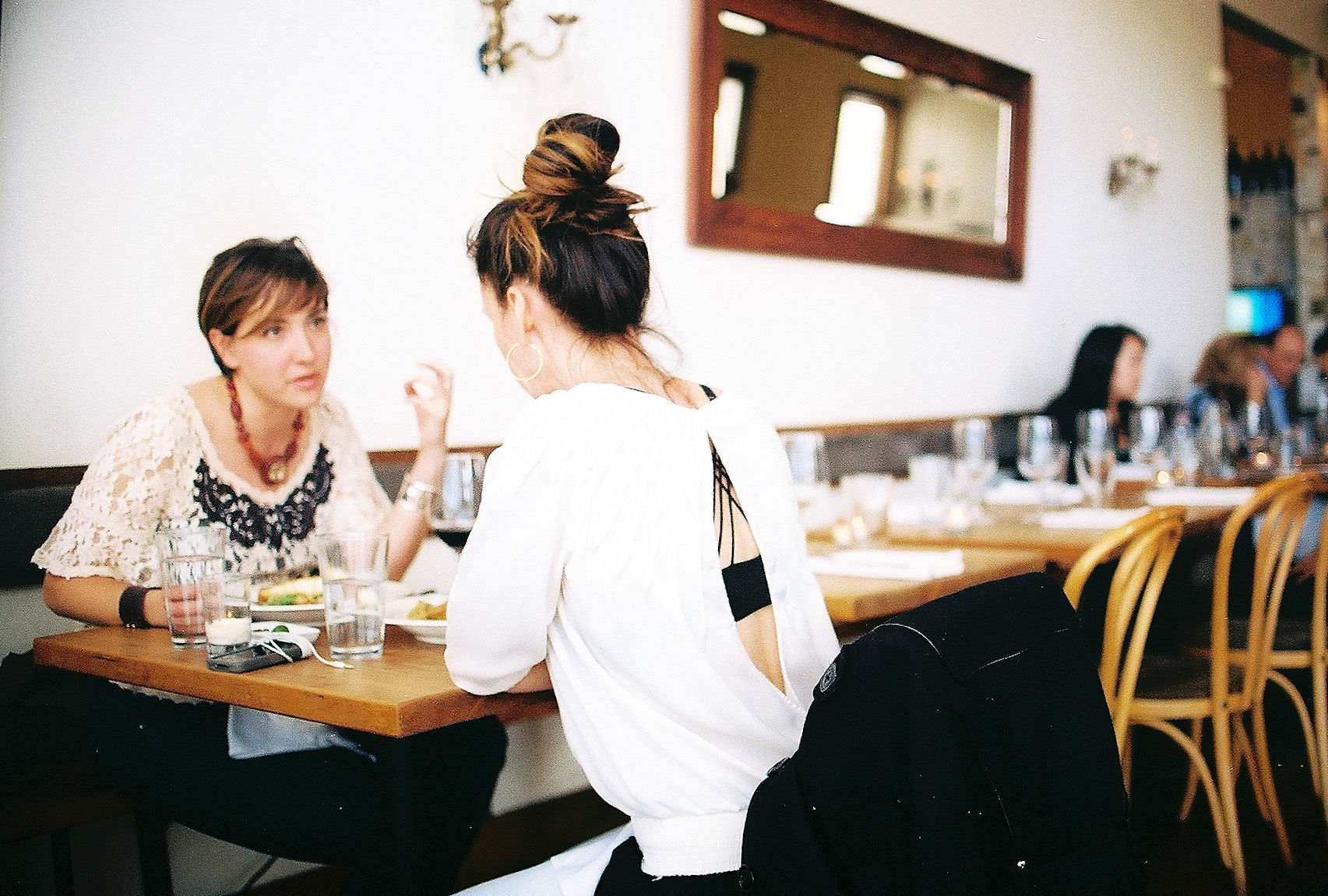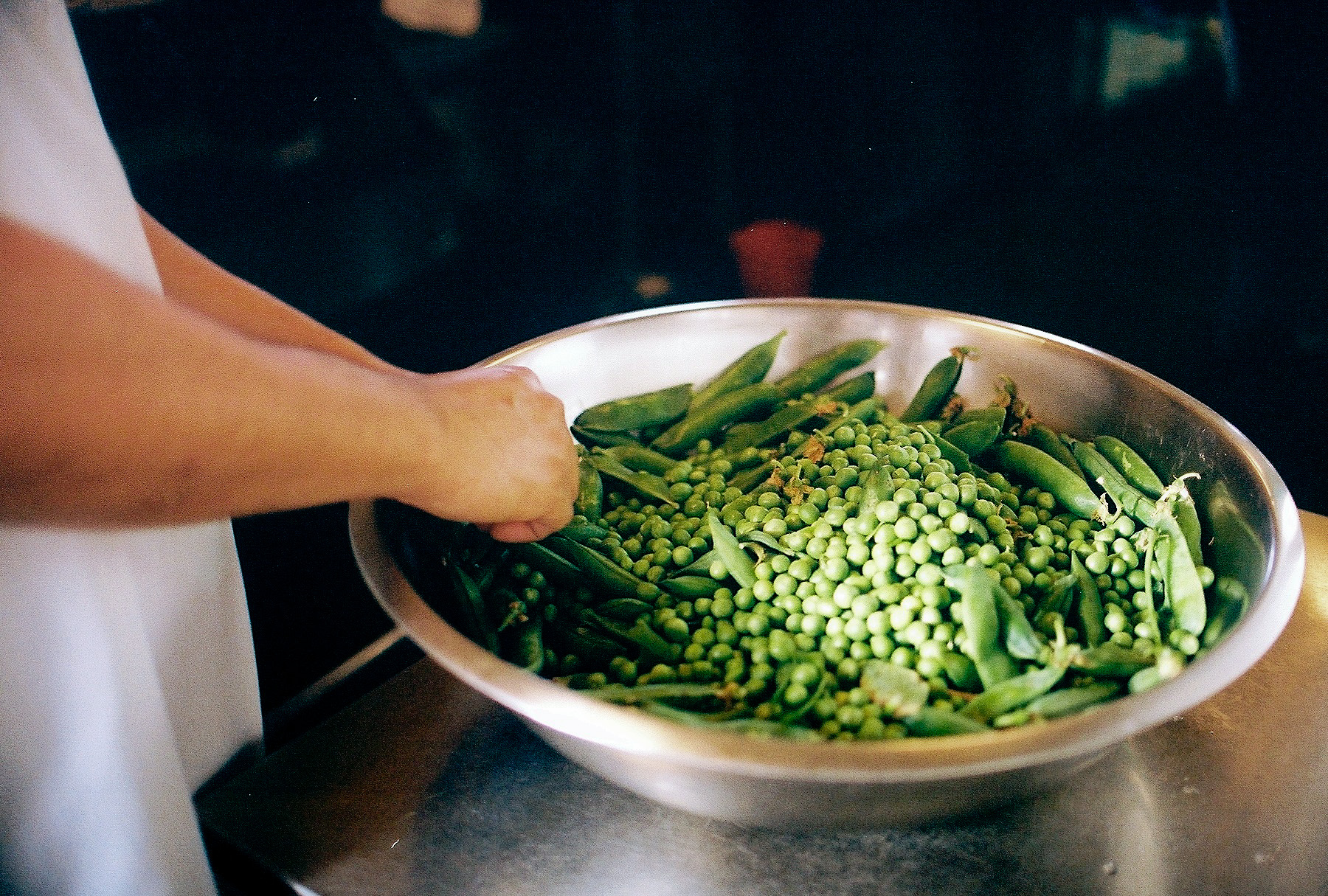 Chef & Owner - Heirloom Cafe
Matthew Straus
We're driving down a sunsoaked 18th Street, back towards the Mission where the restaurant is nestled in a quiet corner on Folsom and 22nd. I'm clutching two large bottles of aged wine and trying, with great difficulty, to prevent them from breaking against each other, while Matt is on the phone speaking exasperatedly with his linen providers. They've forgotten another delivery. How a restaurant can expect to get through a night without towels or aprons is a mystery to Matt.
He hangs up, calls a friend at a local kitchen supply distributor, and makes plans for a pit stop to stock up on new towels. Not ideal, but a necessary improvisation. "When you go to the theatre, the curtain goes up and you don't have people there putting on makeup or still in their boxers," he explains to me. "We don't seat people with incomplete place settings. We don't run a kitchen without towels. But we do improvise, [which is] also a necessary part of theatre."
Theatre is Matt's extended metaphor, the platform on which he approaches dinner service and his role as a restaurant proprietor. "A restaurant is a collection of variables that are moving all the time," he says. "For example, staff that comes or doesn't come to work, ingredients available or not, guests behaving in a particular way. A bottle of wine that doesn't taste the way it should. The live aspect and changeability of theatre, and the essential aspect of the performance of theatre, is at its core the exact same as the restaurant business."
As the head chef and owner of San Francisco's Heirloom Cafe, Matt Straus runs a tight knit troupe of kitchen and wait staff, many of whom have been with him since the restaurant's opening four years ago. With the linen crisis averted, Heirloom opens promptly at 5:45pm. When I arrive an hour later, service is bustling. The decor and the feel of the restaurant itself is homey and welcoming. A long, wooden communal table acts as the centerpiece of the small space, encouraging a family-style atmosphere. The wallpaper and wood flooring have been kept in their turn-of-the-20th century state, and small candelabras dot the walls. The evening light is softly filtered by gauzy white curtains, and the air is comfortable and intimate.
At 41 and with experience ranging from working at McDonald's to serving as the sommelier for top LA restaurants, Matt is a veteran of the food and wine business. He walks with comfortable ease among his patrons, wait staff, and kitchen staff. In equal parts, he plays both the charming dinner host and the attentive business manager. Over the years Matt has developed a trusted approach towards his craft, emphasizing the slow and intentional while holding great respect for tradition and believing in the positive results of practiced iteration.
"I think ours is among the best food in the city," he says matter-of-factly. "The stuff we put together here is very ingredient driven and simple. Nothing here is ever impulsive or rushed." To illustrate his point, Matt explains that when Heirloom introduces a dish, that dish stays on the menu for a minimum of six to eight weeks or longer. This practice allows the chef who is presenting the dish to constantly improve his creation, resulting in a product that tastes better each consecutive night after the first time it was served. "There's something about craft and the process of going back to the same thing over and over again that improves it intrinsically," Matt says. "At Heirloom we operate in a more deliberate rhythm. Nothing [good] is quick."
Matt's emphasis on getting the basics right enables him to focus on the balance and proportion in Heirloom's dishes. One of my favorite items on the menu was a simple bacon and onion tart. Its buttery pie shell was thin and crispy, resembling a flatbread, and just doughy enough to offset the crunch of the bacon. The caramelized onions were pleasantly sweet in what is normally an overpoweringly savory dish. After a bite, I wished I had ordered the entire tart for myself.
"I'm not that interested in chefs or culinary sensibilities that are inclined to reinvent the wheel every other day," he says. "They wake up and think it's their job to have a new culinary epiphany three times a week." Rather than attempt to turn meals into artistic experiences or "Picasso plates," he tries to satisfy the palette by creating meals that make guests feel physically good: meals that balance between carbs, fibers, fat, and salt. With Heirloom, Matt's dishes not only satisfy the physiological needs of the body, but his restaurant also provides an opportunity for patrons to slow down from their busy schedules to share a meal and each other's company, thus, fulfilling the essential needs of the soul.
"Heirloom for me, apart from the very obvious connection it has to tomatoes and apples, has a lot to do with respect for time and tradition," he says quietly. "I'm not interested in necessarily flying in the face of what's new, innovative, and fresh, but neither do I believe that that is better. Oftentimes it's plainly not as good as what came before us."
As the curtain goes up each night, Matt pours a little more of himself into Heirloom. He wonders when it will be time to slow down, when he will be able to cultivate new relationships outside the restaurant. But for now, he'll continue to do what he does best. A familiar scene unfolds itself in the corner of the restaurant where an elderly couple sits at a table. Matt quietly introduces himself and asks how their meal is, if they're enjoying themselves. They nod and smile, whispering compliments into the night.
How do you feel about the community at Heirloom?
MATT: That is the biggest gift of the last four years. It's beyond my wildest expectation. I probably had nascent dream that someday I would be in an environment like I am now. It's spectacular. However, it's not always intimate enough for me. Intimacy comes from more 1:1 time spent together and time that is completely noncommercial. I think a lot of people who work in restaurants are really stretched and challenged for intimacy. Working nights is hard because in many other parts of the culture the night is relied on to cultivate personal relationships. People who work in restaurants don't have that.
What excites you?
MATT: The other thing that keeps me going is wine. Every time a few cases are delivered, I feel a sense of excitement. Right now there are five different SKUs of wine sitting over there. Three of them we've worked with before, and two we haven't. Of the two there is one that I've tasted, and the one that I haven't is going into the cellar and will sit there for 10 years -- that's really exciting for me.
What's the difference between food and wine?
MATT: For me there's always been a little bit of a disconnect in the idea that two people going out for dinner and spending $100 a person. Food -- whether it is kobe beef, some expertly made cheese, or the best strawberries available on the market -- is by its nature replenishable, at least for the moment. Even at the highest level, there's something a little mundane about that, compared to a bottle of wine that was made in a particular vintage from vines that are 100 years old, according to family traditions that are 300 years old. With wine, you're talking about a commodity that almost doesn't exist anywhere in the food world, I can't think of anything else comparable.
From time to time in the wine world a great wine will be made, and a couple years later the winemaker will pass away. The vintage circumstances of 1985 will never be recreated. Or in 1987 the vines stop producing because they're too old... it'll never happen again. There's something about the temporality, the time involved in wine making, that makes it much more singular than anything in the food world. With all due respect to cows, beef is beef. But you can't say that about hermitage.