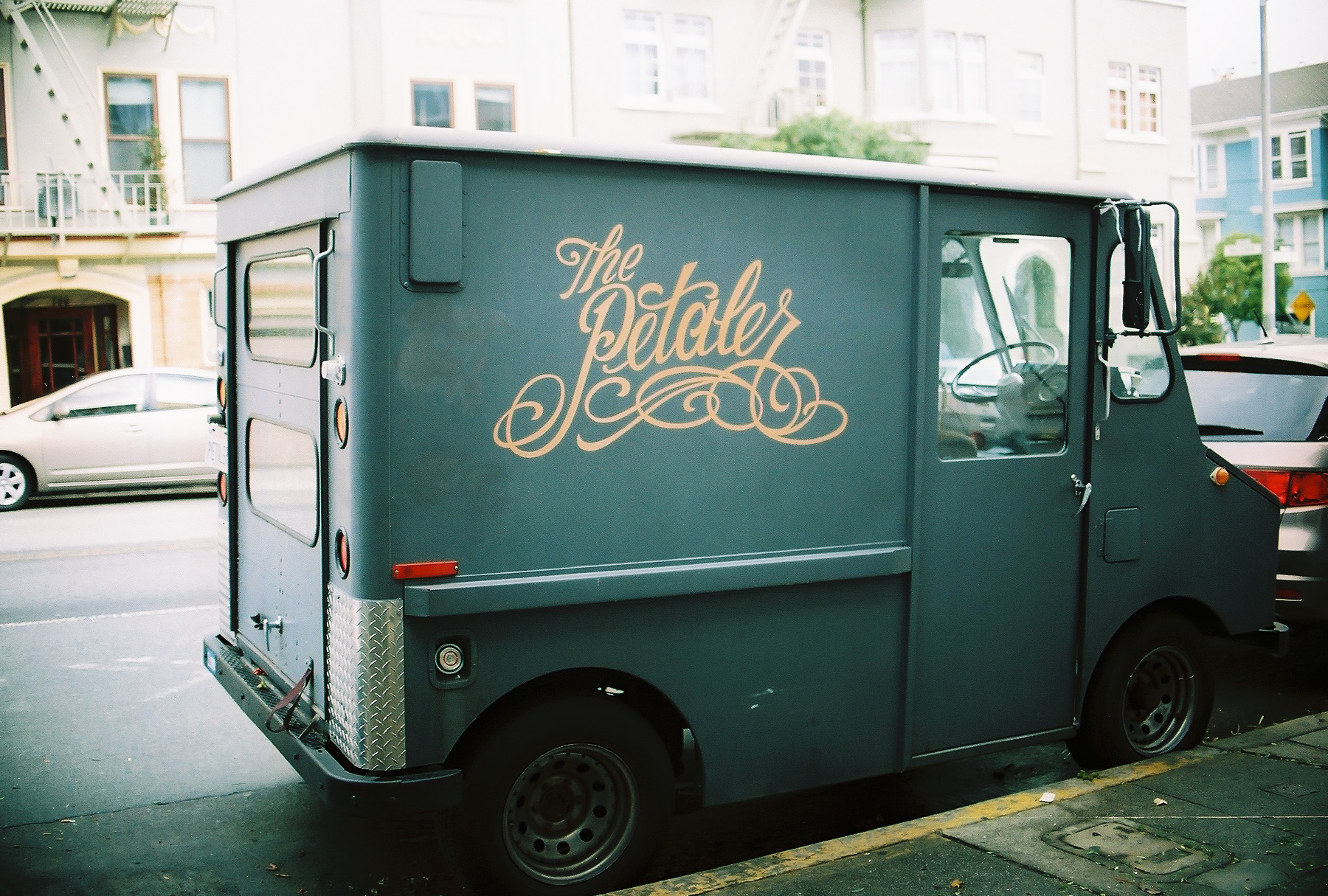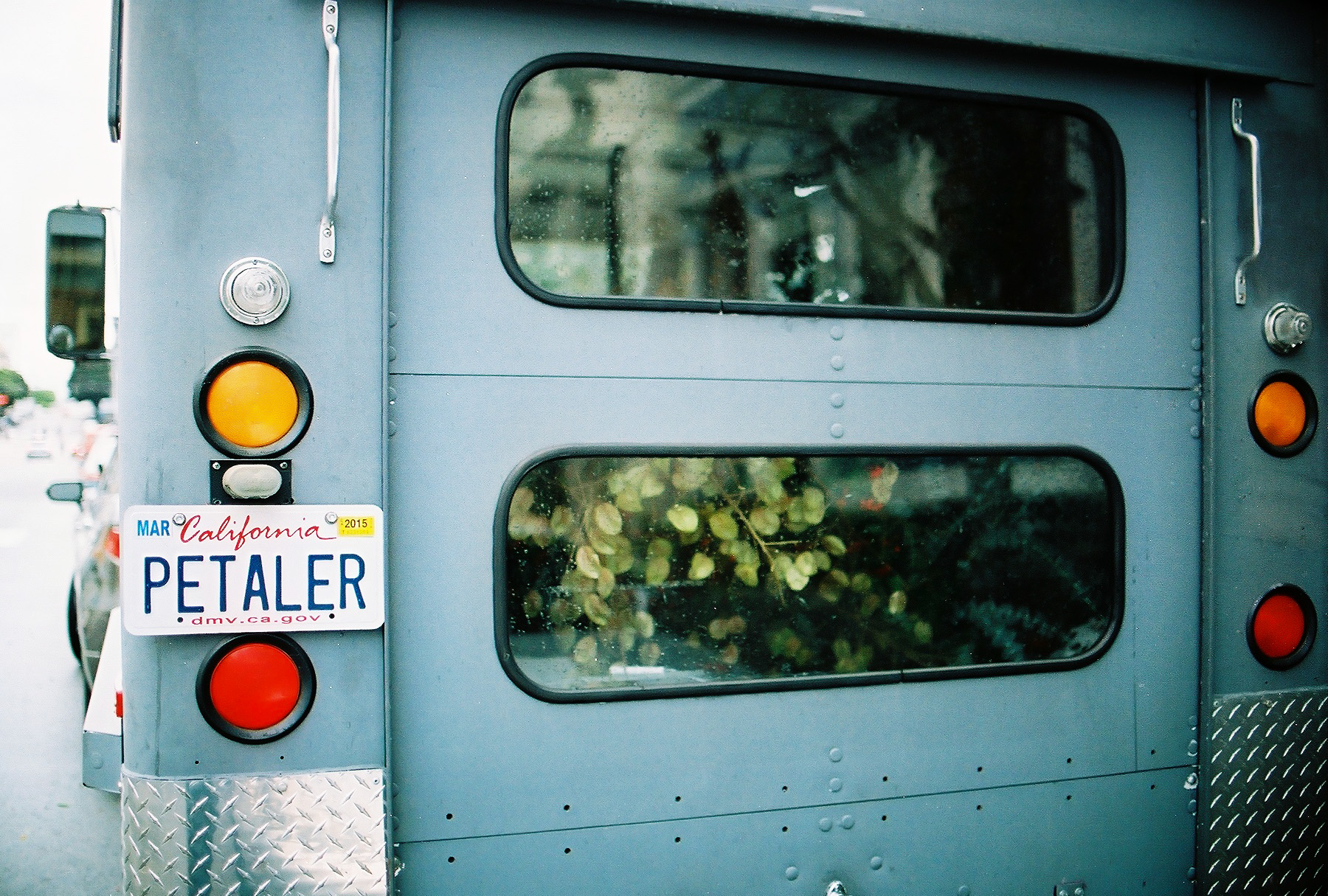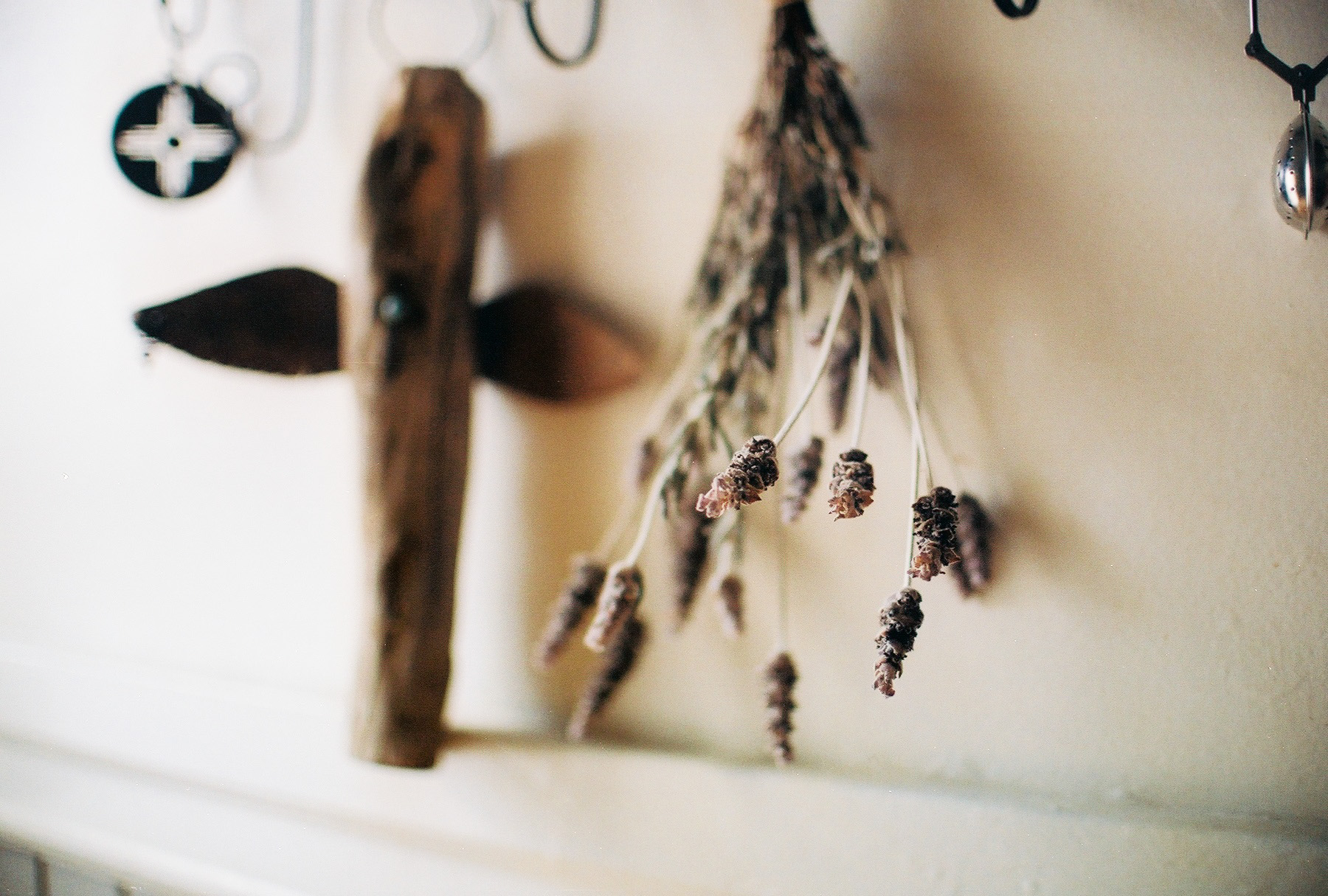 Floral Designer
Rebekah Northway
It's the truck that first draws you in. Small, squarish, and painted cloud grey with The Petaler scripted in creamy pink on its sides, this old postal truck has the allure of a dog-eared storybook.
When you slide open its back door, you'll find branches of holly, bunches of ranunculus, roses, and ferns, and an assortment of leafy knick-knacks and dried flowers. Rebekah Northway—floral designer, artist, and postal truck driver—leans on the side of the truck and apologizes for the messy garden inside. She's in between deliveries.
**
Rebekah, owner of the San Francisco-based floral design studio, The Petaler, specializes in branch-based designs and large scale branch arrangements. Her days start at 5:00 AM, often last 13 hours, and involve heavy manual labor, great patience, and a bit of engineering. Some of her pieces reach up to 20 feet in height and other installations can span the width of a restaurant's wall. "Between schlepping big huge branches [between locations], sloshing around dirty flower water, prepping everything, and reconstructing pieces—it's just insane amounts of work," she says. "And then the actual strenuous part of designing and making the arrangement, and learning through trial and error what lasts and what dies prematurely..." Her voice trails off. "But once I started doing this, I never second guessed it."
Rebekah began her career in the restaurant industry where she learned to tap into the natural bounty and flavors of the Bay Area. Those experiences taught her to highlight simple products that were beautiful in their own forms and opened her eyes to the subtle elegance of ordinary materials. So when she moved into floral design, she made her mark with materials that were out of the ordinary, such as branches. "I absolutely love flowers," she says matter-of-factly, "but I really love branches and grasses. I like [their] neutral tones and I just think they have a subtle beauty."
In one arrangement, large curvaceous branches topped by tiny green sproutlings snake their way out of a bronze urn into the shape of a claw. Moss grows up along a few of the branches, giving the piece an abandoned, overgrown feel, and a few small clumps of dark purple berries nestle at the opening of the vase. Its commanding presence is both mystifying and sparse. In another piece, Rebekah uses a simple orchid as a centerpiece and surrounds it with tendrils of dried golden fern, evoking images of exotic safaris and dry savanna grasslands.
The Petaler's success is evident from Rebekah's roster of star clients in the Bay. Restaurants like Nopa, State Bird Provisions, Frances, and the coffee company Sight Glass, among others, regularly showcase her arrangements. She draws her inspiration from the spaces that these restaurants provide and always tries to stay true to her own artistic instinct while respecting the client's desires. "You think so hard about what would work in a particular space and you hone in on these key words that people tell you influence what they want," she says. "I can only do my best to manifest their vision. But I think what's important is being true to [the materials] I'm selecting. You kind of have to convince people why it's the right fit. It's hard because everyone has a different set of eyes and sees things differently. But it's so gratifying when you finally get it right."
Rebekah's background in illustration and ballet also factor into her work. Understanding lines, movement, and shape, as well as the usage of foreground and background in installations, is key to the balance of her pieces. She doesn't consider herself an artist, preferring to say that the products she works with are "nature's art" that she finds a way to expose and arrange. Rebekah doesn't give herself enough credit, but luckily others do. For example, prospective clients and admirers often call about the artwork she has hanging in Frances—a beautiful, circular drywall arrangement that is imposing in size but has a vulnerable softness due to the brittle nature of the material. It's a piece without any color or floral elements. Dozens of thin branches emerge like rays from the center of the arrangement. Each branch separates into multiple tiny extensions that then themselves split like fine hairs, twisting every which way, and reaching for the corners of the room. The end result is not unlike a drawing of an intricate neuron. Rebekah fondly describes it as "just a weed."
"The idea of being able to accent a space with the touch of flowers or branches, arrangements, what have you, is really exciting to me," she says. As much as it is dirty and difficult work, being around the elements can give back so much [to us] and it's such a rare and beautiful part of our existence."
**
Perhaps what draws you in is not The Petaler's truck, but rather, something about the way Rebekah lights up when she talks about flowers. The sweetness of her demeanor belies a strong will and determination that has characterized her business over the past eight years. As much as she loves flowers and the creativity inherent in her work, it's the happiness that flowers can bring to others which gives her the most fulfillment. "People enjoy flowers so much, and to be able to be a provider of that joy, I feel lucky. I feel lucky that I can supply something that can make people smile, that make them celebratory. My awe and excitement, it never dulls."
Recently The Petaler has opened up a brick-and-mortar space in a peaceful corner of Duboce Triangle. Much like another secret garden, The Petaler's shop is quiet and hidden, filled with delightful bouquets, wreaths, and blossoms. When you take a step in, let yourself be delighted by the beauty around you and know that, "If you look the right way, you can see that the whole world is a garden."
Check out more of Rebekah's work at www.thepetalersf.com, or on Instagram under the handle (thepetalersf).
What was the hardest part of first starting out?
REBEKAH: Learning what flowers lasted and what would die prematurely. I would spend hours on a huge installation and then go two days later and see that it died. Then I'd have to wake up early on at get new branches to patch it up. On the business side, I'd come home and do hours of emailing and proposals, talking about the taxes and everything else. As [businesses] evolve, so much of it is those other parts. Just to actually continue operating like a well-rounded business you have to pay attention to so many other areas.
What are your goals for The Petaler?
REBEKAH: I want to explore lots of different avenues and I'm excited to have a brick-and-mortar space that I can create a little community with and have people come in and get little bouquets. I want to do more wall installations and create arrangements for higher production events. I'm just letting the business keep evolving. The more open I am, the more things come my way. I'm happy with the way things are now and I don't want to disrupt my flow. The first five years were serious trial and error. Luckily it's always profited but my overhead was so low. Now it's almost like a new business in that I really have to invest.
What's the deal with the truck?
REBEKAH: I bought it off eBay! I wanted the truck purely out of functionality for the business. I was strapping huge branches to the top of my SUV and I wanted something where my branches could stay in water upright between jobs, and at end of the day.
People are so excited by the truck. Little kids, tourists, folks from every walk of life will be like, "I like your truck." I saw people's reactions to the truck and I wanted them to be able to experience going into the truck to buy flowers. I wanted the truck to have a welcoming atmosphere and have people be able to touch the flowers and ask questions. There are so many amazing florists but they all drive white cargo vans. With this truck I get more attention. People are so in love with this truck.
What's your favorite flower?
REBEKAH: It's hard, I have a lot of them and it changes, but the one tried and true flower is the ranunculus. They're so small an unique and so different, they're the most lovely little flower to me.
How did your experience in the restaurant industry influence your current work?
REBEKAH: These two women took me under their wing and I learned to cook with them. We would have these really elaborate lunches and I just saw how much more of a lifestyle food was to them, and how much it really was more than just eating your three meals a day. It was beautiful. The colors of the food, the way they integrated colors into their dishes, the balance of the flavors, but really simple. Around the passion [of food] created this incredible community. Tons of people came to the restaurant. A small portion of people were so taken aback by the love put into the food that they formed an incredible group of friends based around this love of food. This planted the seed in my mind of opening my eyes up to the less obvious. These women were the original owners of Pizetta 211.
How did you get into floral design?
REBEKAH: I was working at the original [Limon] when it moved to a much larger location. The place was so stark that I said, "Guys we need art or flowers," and they said, "Ok, do it." I did floral arrangements for them for two years. I started the business on the side; I was a server at night and arranged flowers during the day.
I never actually really realized it. It sort of happened all very naturally. It just kind of happened only in the last couple years. I've been trying to catch up with what's going on in my own life and the business. The last three years I've come to terms with what's really going on and taken charge.