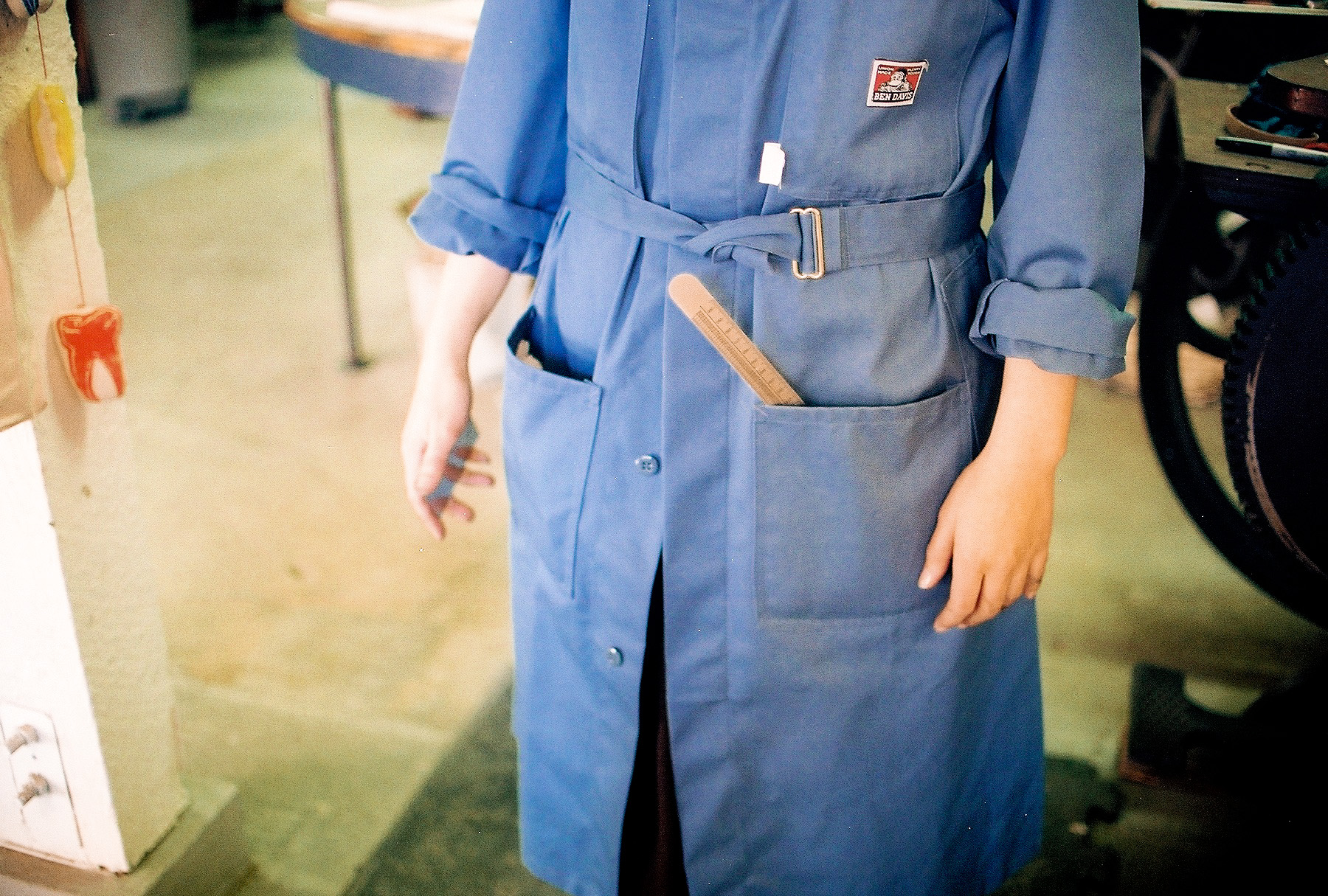 Papa Llama
Risa Culbertson
"I'll travel the world to be with you. Unless you're in the Midwest, then nevermind."
Cheeky. The kind of banter you'd expect between childhood friends or a even a flirtatious couple. But on a greeting card? Not so common. And that's where Risa's quirky charm thrives.
Full of smiles and incredibly easy to laugh, Risa Culbertson of PapaLlama has carved a niche out of creating hilarious and sometimes slightly inappropriate cards and prints for folks who have a sense of humor. (See two of my favorites here and here.) "I've actually gotten some hate mail over my Midwest card," she says chuckling. "It's all in good humor and I'm very sarcastic in a very smiley sort of way. It's almost like I love to take things in our current society and make them funny. Like, 'Congratulations on your second marriage!' It's definitely for a specific type of person. Not everyone is gonna get it and that's okay. There are plenty of cutesy things out there for the masses. I'm a tomboy, I have a foul mouth sometimes, and I like to laugh a lot. That's kind of like my cards."
It's a bit shocking to see Risa's success after having only discovered printmaking a mere two years ago. Originally interested in apparel manufacturing, Risa started making cards as an inside joke between herself and a friend whose favorite phrase was "awesome sauce." Her employers at a small stationery store liked the quirky feel of the card, put it on the floor, and it sold out. So she made more, and they sold out again -- and again, and again. "It was totally unintentional. I came up with some more ideas and kept making cards and they kept selling out, so [my employers] put me in touch with their sales rep of 20 years and he picked up the line."
Starting out with a small letterpress in her kitchen, Risa was soon plagued with production issues that didn't allow her to keep up with the number of orders she was receiving on her Etsy store and in brick and mortar retailers. To scale her line, she learned how to operate a mid-century letterpress that was nearly her height, which is now the focal point of her workspace. PapaLlama is now sold in 60 stores in the Bay Area and she's looking to expand to other large cities such as New York, Los Angeles, Portland, Austin, and Chicago.
Most recently, Risa has opened up her own store in San Francisco with her business partner James Tucker. The space itself is comfortable and inviting, with large windows that let in gorgeous afternoon sunlight. The front half displays local artwork and products as well as examples of her work. A thin wooden counter divides the space, and the rear of the store is reserved for production, dotted with paint cans, letterpress blocks, and posters. Risa says PapaLlama is self sustaining now but that the process of getting there was at times unbearable. "I never thought in having my own business that I would be confronted with so many of my own fears and issues," she admits. "It's so personal. You try to keep business and personal [life] separate but when you have your own business those two are so together."
What has really propelled her through the struggles of launching her line and opening a store is her desire to be a part of the community of makers. "In this tech world, people are thirsty for something that has a soul in it," she says. "We want to show people that there's a whole bunch of us making stuff out here. I want the space to be really welcoming and open to having this dialogue. This place is more of a work area that happens to have a store."
Where do you find inspiration?
RISA: I think it's a daily struggle for creative types to figure out how to get that first doodle on. I get inspiration from people, goofy things, slang, things that are very specific to San Franciscans. Every card has a story behind it. They were all inspired by friends and family and thoughts of those people, or conversations we've had.
How would you describe your style?
RISA: I love the imperfections of things, but also like being able to make somebody laugh or smile. Take a second to laugh about something and showcase that it doesn't have to perfect, it's okay. The imperfections are what makes things beautiful and make us unique; embrace those. Have a good time and don't be so serious. Just chill everybody, it's okay.
What are your goals for PapaLlama?
RISA: I'm really excited to do bigger pieces and learn more, to expand the line and get it out more while still retaining its little town feel. Right now I do cards and bags, but I would like to do larger prints like posters for the home. I'm really excited to get some more collaborations started here and being inspired by other artists.
How does the letterpress work?
RISA: It starts off with an original design that I freehand. That [image] gets transferred onto a linoleum mounted on a wood block, and then I carve it out. There's something about carving away things that's really satisfying. There are a lot of things where you build up, but there's not a lot of things where you're removing layers…It's meditative and helps me be present with my pieces. Anyway, the block goes into the chase and gets locked up, and that gets inserted into the press. Then you mix your colors and you put the ink onto the ink plate. The roller rolls over the ink and when I pull the lever, it makes an impression on the paper.
To check out Risa in action, visit her store at the Aesthetic Union: 555 Alabama Street, San Francisco, CA 94110.